Restaurant Stará celnice
Welcome to the restaurant and guesthouse in the Stará celnice Hlučín.
We are very pleased that we have this virtual visit and we hope to see us arrive early, try our exceptional cuisine and get to know the neighborhood, which offers a wealth of both sporting and cultural activities.
Enjoy your visit, a beautiful day and we look forward to your visit.
Video ukázka
Pizza

In our restuaraci we hand roll and tapped according to authentic Italian pizza pizza recipes You can also double dough ordering any pizza of your choice for a small amount
Accommodation in Hlučín
We offer accommodation just a few steps from the center Hlučína a quiet location on Lake Hlučín.
Pension provides cozy accommodation for single, double and four-bed penthouse suites fully equipped with en suite bathroom, internet access and refrigerator. Includes breakfast and parking on site.
Discount for regular customers and the company for longer stays.
Book by phone: +420 595 048 518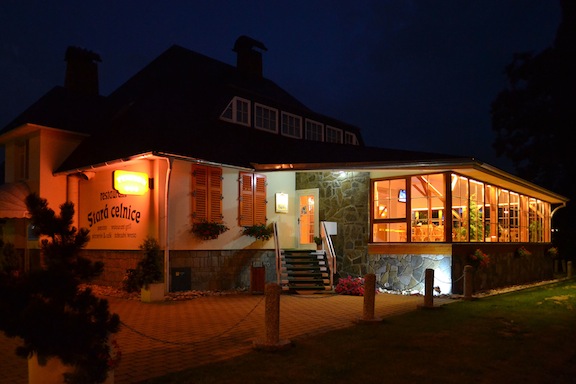 Range of quality Spanish wines from Penedés
SPANISH WINES FROM Penedès, just come and taste wines from sunny Spain, the Czech and sweeten our beautiful even in winter warm fireplace.
Official catering partners
Services Offered

Quality Certification Services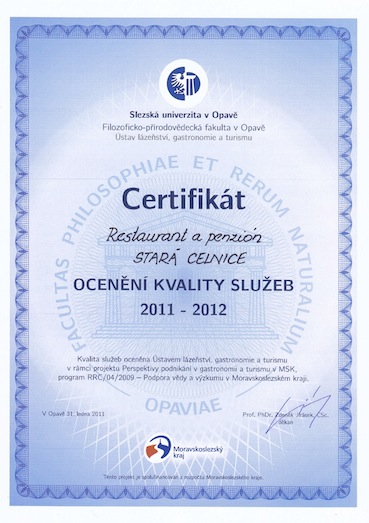 Our restaurant has received a certificate of service quality in the project, prospects for business in the catering and tourism in the Region, conducted by the Silesian University in Opava under the auspices of the Region. Professional and lay jury assessed from nearly 300 restaurants and accommodation the top 20 that met the demanding criteria such as quality food, service level and prices of services, environment, business, dining and drinks - 53 criterions. In this survey, we obtained high score and placed at the forefront. The award we are very pleased and confident that we will continue to be among the companies, where people like and where we return for good food and pleasant atmosphere
P i z z a menu
P i z z a delivery
Events
08.05.2011
Dear guests,
for lovers of foamy fluid was prepared according to month
flowers OF the event - draft beer for only 12 OSTRAVAR
25, - CZK / 0,5 l




At the same time we would like to offer a daily lunch menu at the new menus OF BUSINESS / including carrot at a reduced price.




 
08.05.2010
Dear Friends, We cordially invite you to our family restaurant and pizzeria with exceptional cuisine and homemade specialties ...